This Taco Pizza recipe has been compensated by Collective Bias, Inc. and its advertiser. All opinions are mine alone. #MakeGameTimeSaucy #CollectiveBias
How have I not made a Taco Pizza sooner? I love tacos! I love pizza! Why wouldn't I love a taco pizza?!? 
This pizza is perfect for game day. It's a pizza dinner that totally mixes it up from the usual pepperoni and sausage. Plus, it has plenty of flavor with two types of Pace® Salsa that I picked up at Walmart. It's super quick and easy to make!
Ready to shop for delicious Pace® products? Hover over the photo to click through to Walmart.com and purchase them!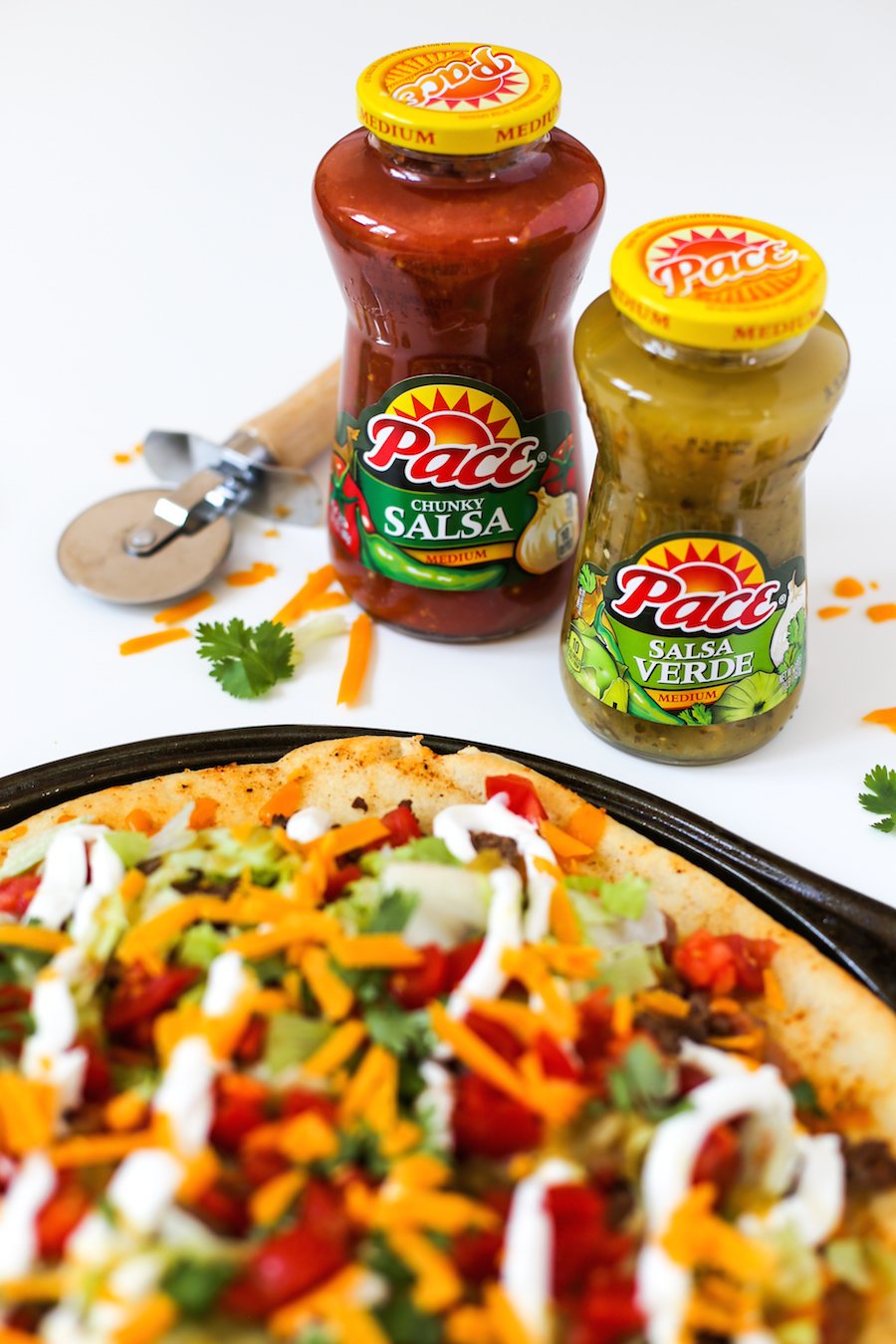 There are so many different ways to make taco pizza, but I wanted mine to be regular pizza dough topped with taco ingredients (and refried beans – do you put refried beans IN your taco? I don't, but I thought it made a good "sauce" when coupled with salsa.) I used store bought dough (the kind that comes in a can) and I baked it twice – once as just the dough with added olive oil and taco seasoning on the outer crust, and then I add my toppings and bake it again. This ensures that the crust fully bakes and gets crispy, not soggy.
Here's the recipe, you'll need a few ingredients:
Taco Pizza
Taco Pizza // Salty Canary
Ingredients
pizza crust of your choice
2 Tbsp olive oil
1-2 tsp taco seasoning mix (depending on your level of kick)
1 can refried beans
⅔ cup Pace® Salsa
2 cups shredded cheddar cheese
¾ lb. ground beef, browned
1 cup shredded lettuce
3 tomatoes, diced
⅓ cup sour cream
⅓ cup Pace® Salsa Verde
sprinkle of diced cilantro
Instructions
Start by prepping your dough. I used store-bought, canned pizza dough, so I rolled it out and added olive oil and taco seasoning to the outer crust, then baked it for 8 minutes to get it crispy.
Brown your ground beef, drain excess fat if needed, and set aide.
Heat your refried beans, then spread them on top of the crust.
Add Pace® Salsa on top of the refried beans.
Top with cheddar cheese and ground beef, then bake for 3-4 minutes at 400 F to melt the cheese.
Remove the pizza from the oven and allow to slightly cool before adding the lettuce, diced tomatoes, and a drizzle of sour cream and Pace® Salsa Verde on top.
Top with a garnish of cilantro and a bit more shredded cheddar cheese for color.
I made my Taco Pizza with a "sauce" of refried beans and 24 oz.
Pace®
Salsa topped with a layer of cheddar cheese and then ground beef. I baked the pizza a second time to melt the cheese, then added lettuce, tomato, sour cream, and 24 oz.
Pace
® Salsa Verde on top along with a bit of cilantro and some extra cheddar cheese for color.
This taco pizza had so much flavor thanks to the two types of
Pace®
Salsa!
Pace®
helps "ban the bland" and can be used for so much more than just chips and dips!
I picked up my ingredients along with the
Pace®
Salsas from Walmart.
Check out an awesome Ibotta® deal on
Pace®
products at Walmart!
Earn $0.50 cash back
with Ibotta® when you purchase a jar of
Pace
®! (Offer is valid on any ONE (1) 15 oz. or larger
Pace
® Salsa or
Pace
® Picante Sauce.)
And if you're looking for more bold inspiration, check out the
Pace®
social site
with more tips and recipes! And remember,
Pace®
is good on anything but ice cream!