This post about 6 Easily Forgotten Baby Registry Items has been compensated by Collective Bias, Inc. and its advertiser. All opinions are mine alone.
As a first time mom, I did not quite realize the depth of the task of creating a baby registry! There is SO much to research! What do babies actually need? What items do the babies NOT need, but simply make life easier for the parents? What do other moms like and recommend? What do the reviews read? What about safety and durability? There is simply so much to think about! So it's no wonder that there are several easily forgotten baby registry items, and I'm sharing them with you below.
First of all, let's make it easy! I created a Target baby registry online which was so simple and easy to do! And when expectant parents register for a baby registry at Target, they will automatically see some fabulous Johnson and Johnson products pop up in the registry. Seeing these items made me realize that it's not just car seats, cute onesies, and colorful teethers, but also health and safety items that I hadn't even thought of!
First off, I totally forgot about bath time! I mean, I thought about the baby bath and the cute hooded baby towels, but I didn't even think about registrering for baby shampoo and baby wash! Luckily, one of the items that automatically pops up when you create a Target baby registry is the Johnson's® Bath Discovery Set. It comes with baby shampoo, baby wash, diaper rash cream, etc.
Ready to shop for the Johnson & Johnson products that prepopulate in the registry? Hover over the photo to click through to Target.com and purchase them! Or go ahead and start your Target Baby Registry here.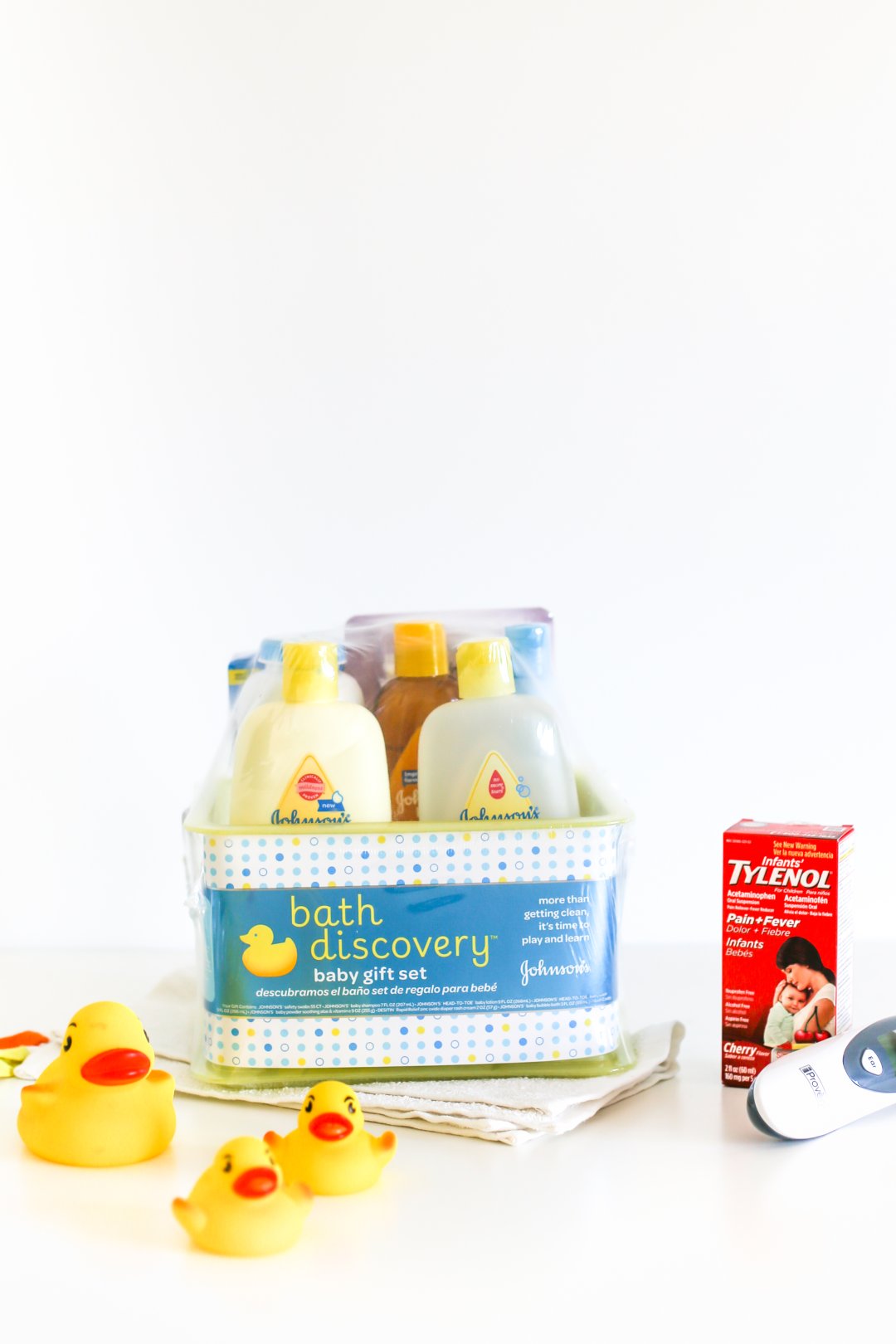 Another item that automatically pops up is Infant TYLENOL® 2oz. Cherry. The thought of prepping a medicine kit for infants never even crossed my mind, but what a lifesaver to have on hand if we ever need Infant TYLENOL® at two o'clock in the morning! I also made sure to register for a thermometer. If you suspect your baby has a fever and call the nurse's hotline to check and see if you need to bring your baby in, they're going to ask you for their temperature. And, wow have thermometers come a long way from those little colored strips that our parents would put on our foreheads! Remember those things?
Another great item to have on hand is the snot sucker! It looks gross, but other moms and all the reviews swear by it! The baby is going to have snot in his or her nose and you need to get it out!
And another easily forgotten item are baby mittens! My husband asked if they made snow mittens that small for babies and why we would even need them and I explained that they aren't mittens for cold, but mittens so these two little babies inside me don't scratch their faces with their sharp, little talons!
And last, but not least, register for a cool humidifier. I am so thankful that one of our friends purchased this humidifier off of our registry early, because I've been using it for about a month now. Did you know that when you're pregnant, you generate more body fluids, one of those fluids being mucus? Yeah, pregnant ladies get snot, too, and I don't think my husband is going to use that snot sucker thing on me, so I got a humidifier so I could breathe easier while sleeping at night. I notice that on nights I forget to turn it on, I wake up with a sore throat because I end up not being able to breathe through my nose.
Even if you're not having a baby shower, it's just smart to create a registry. I created my Target baby registry online, but you could also create yours in-store and there's a Target registry app you can download that's compatible with iPhone and Android. Target Baby Registrants will receive a Welcome kit after signing up that you can pick up at Guest Services for $50 worth of coupons & handpicked samples. Registrants will also receive a 15% off discount that will be emailed 8 weeks before their arrival date to provide savings on anything left on the registry. I just used my discount to purchase a bunch of clothes and toys because my baby shower was 4 weeks ago and friends and family only gifted us the useful items (thank you, family and friends!!!) and not the cutesy, unnecessary items!
Plus, Target offers easy returns and exchanges up to a year after your arrival date and with Gift Tracking, registrants can match gifts to guests and manage their thank you list. Speaking of thank you cards, I need to go finish writing mine and get those mailed out ASAP!
Don't forget to start your Target Baby Registry by clicking here!