Thank you to the Chinet® brand for sponsoring this post.
Everyone has been wanting to meet my babies, but I've held off because 1. it's overwhelming and I'm exhausted and 2. this has been a horrible flu season! I was not about to deal with that! But a couple weeks ago, we invited a few of the husband's art school friends over along with their wives and babies for a simple, modern Sip & See party with a Bagel Bar and a Mimosa Bar!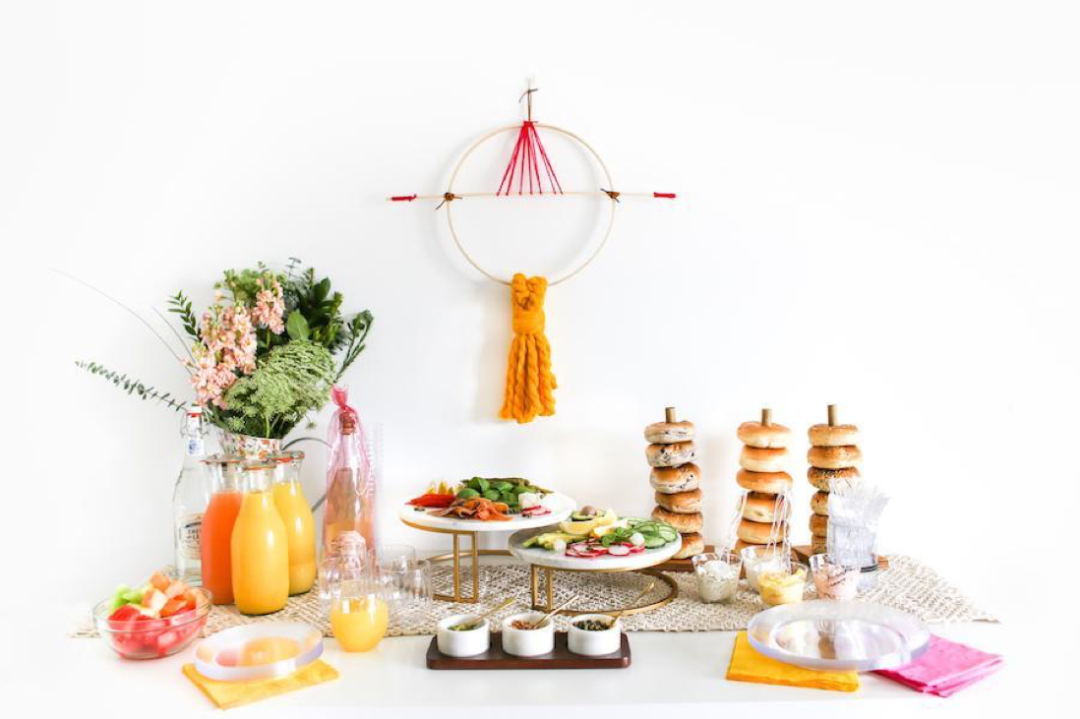 Click the image above to shop!
The key to hosting people when you have a newborn (or two!) is to keep it simple! To put this party together, I simply purchased bagels, cream cheeses, a smorgasbord of pickled and packaged toppings, a pre-cut fruit salad, and three different juices. The hardest part was slicing the cucumber, radishes, avocado, and lemons and then putting everything on the table. And of course we used disposable plates, utensils, and glasses! I mean, I'm already running the dishwasher a couple of times a day to wash bottles, I don't need MORE dishes to do! So I used Chinet® Cut Crystal® products because the products are a fully coordinated line of disposable tableware which are recyclable and match any decor, allowing for a beautiful tablescape! And cleanup was quick and easy! We just put them in the recycle bin when done!

And the decorations were EASY! I quickly whipped up this modern dreamcatcher/wall hanging using an embroidery hoop, yarn, and leather cording. If you're hosting a Sip & See party for a new mama, you can make a similar wall hanging and then gift it to the new mama to use as a mobile. I'm going to add some brightly colored turquoise and orange pom poms to this one and hang it above the diaper changing area in our downstairs library since the babies LOVE the one I hung above their diaper changing area in their nursery!

What's the Julia Child saying about cake and parties? A party without cake is just a meeting. Well, I think the same thing can be said about brunch and mimosas! I set up a quick and easy mimosa bar with a couple bottles of champagne and three different types of juices. I went with orange juice, pineapple juice, and strawberry lemonade, but I saw some strawberry peach juice and guava juice at the grocery store that looked like it would be good, too!

A drink station such as a mimosa bar is the easiest way to set up drinks for guests! This way, they can help themselves and you won't feel like you have to play hostess filling and refilling everyone's glasses! In fact, one of our friends walked in the door and offered to make ME a drink!
And then the bagel bar was super easy to assemble! My father-in-law made my bagel holders, which are an easy DIY you can do at home – it's just a wooden board or plaque that has been nailed onto a dowel and then stained. I went with three different bagel flavors: plain bagels, everything bagels, and sweet blueberry bagels.
As I was putting everything on the table, I couldn't figure out bowls to put the different cream cheeses and Irish butter into to serve, but then I just grabbed 4 of the Chinet Cut Crystal 9 oz. cups and spooned the cream cheese and butter into them! I topped them with a knife from the Chinet Cut Crystal cutlery container and they looked great!
My spread of bagel toppings included plain cream cheese, garlic and chive cream cheese, strawberry cream cheese, Irish butter, pickled asparagus, pickled roasted bell pepper, pickled onions, lox, lemon wedges (for some acid on the savory bagel toppings), basil, slices of avocado, radishes, cucumber, capers, fresh dill, and coarse tomato salt.
Again, the Chinet Cut Crystal products made this party so easy! They are available in dinner and dessert plates, 14-ounce and 9-ounce cups, cutlery, and stemless wineglasses.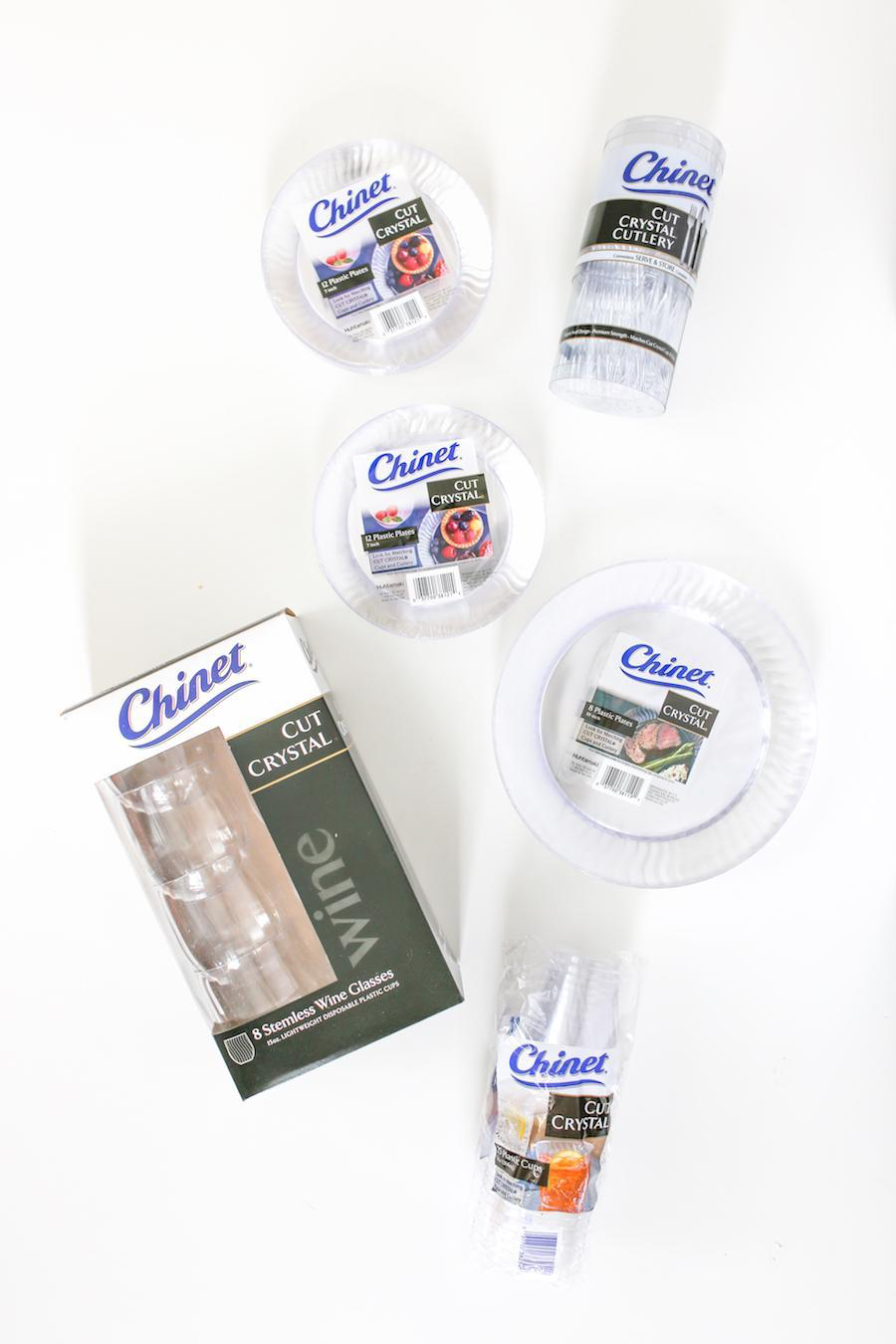 Click the image above to shop!
The Chinet Cut Crystal cutlery comes in a "host-ready" container perfect for easy serving and I was able to easily get the lid back on the container following the party for easy storage.

Just a quick note: as a new mama to newborn twins, this "party" was more of a large scale get-together consisting of 7 adults, 1 small child, a toddler, and 3 babies. That was about as much as I could handle and everyone was "all hands on deck" ready to help. My mom came over in the morning to help with the babies so I could set this up, take photos, pick up the house, and take a shower. There is no way I could have done this for a larger group of guests or without help. I don't want any new moms to think they have to have a picture perfect party for hosting friends after birthing a baby. My job is to make pretty, inspirational photos – just like when a working mama goes back to work in an office, I've also "gone back to work." And even though it was just a small get-together, I loved celebrating all the babies with our friends.
I was selected for this opportunity as a member of CLEVER and the content and opinions expressed here are all my own. Chinet® and Cut Crystal® are registered trademarks of Huhtamaki, Inc. in the U.S. and other countries.